How I had college football's most polarizing story in my hands five months before ESPN, and how passing it up was morally perfect. Including exclusive picture of Manziel signing in hotel room.
Fate may not exist, but things do happen naturally. Naturally, the fate of college football's resident Vinny Chase is in jeopardy...five months too late.
By the beginning of March, my journalism had drifted to the back burner. I felt like I had no time. Weekly A.P. essays, clubs with field trips building up red marks on my attendance record, and a girl to talk to whenever free time emerged. Suddenly, this story began to take flight for me.
With the Great Recession of this new millennium, a few lower-level American industries quietly changed; one being memorabilia. Vintage items remained valuable, but the autographed baseball card you got signed while hanging over the left field fence was (and still is) no more valuable than your mustard stained ticket stub. It became clear that, with more and more paid signings to get autographs in bulk, current athletes' autographs weren't special in the eBay/eSnipe era of dealers hunting for the cheap deal on an 8x10. Still, superstars remained clambake. Record holders remained valuable. Heisman winners remained valuable. Johnny Manziel was valuable.
In a school year that I took an SAT or ACT every Saturday morning, I wasn't the college football aficionado I once was. The first time I heard about Johnny Manziel was most likely in November when ESPN's Darren Rovell began tweeting figures Texas A&M was taking in from their electrifying, young field general. Johhny Football proved to be irresistible. He was the season's RGIII; a guy you couldn't help but be enamored by as he bursted up the sideline. During the season, the media seemed to let his shenanigans slide, overlooked the criminal record he had already began, and laughing off his wild Halloween night in College Station. The season ended, Manziel's off-the-field behavior took center stage, taking us to where we are now-a scandal in which his eligibility is in question. No surprise here.
Five months prior to ESPN's Darren Rovell's breaking of a story on August 4th stating Manziel allegedly received cash for his signature from an autograph broker, my name appeared in Mr. Rovell's Twitter inbox. At 16, all I knew about investigative reporting was from my history teacher, who referenced muckrakers day-in and day-out. Obviously, journalism has changed at least a little bit since the Upton Sinclair days, so I reached out to an acclaimed journalist I thought could help: Darren Rovell. On March 2nd, I sent Rovell a Direct Message saying I had a few questions about how to proceed with a story I had a lead on. A reply of "sure" was exciting, but a call from the journalist with a knack for butting heads on Twitter never came. I spoke to a couple of journalists afterwards on who I could speak to, got suggestions, but non-replies had my email empty. On the same day, I briefed my good friend and Business Development Manager at Fanvsfan, Michael Hirschbein, on the story (where I even included a worry that a lack of evidence would get me sued, according to archived Facebook messages), but, ultimately it was that I felt I didn't have enough evidence to run it and the Wolff family morality that talked me out of it.
Let me begin by saying it would've been exciting to run the story first. Heck, if Manziel sits this year out, I may have been able to save the Aggies season. Applying to the University of Texas with this on my résumé would've been the polar opposite of Edward Snowden running for a spot in the House (UT Admissions, please don't punish me for not running the story). But in 20/20 hindsight, after guidance from my father which has done me wonders, I find myself glad this wasn't my story. Let it be the story the millionaire tweeter ran with, potentially damaging a college student's, who is getting screwed by the system, future. If I continue in journalism, I'd hope my big story is one that is praised for simply being well-written and enjoyable. Enough corporate big shots at the NCAA benefit off of Manziel and his name. Why should I join those profiting off of Johnny Manziel? Even if Rovell and I had spoken, I very well might have swept this story under the rug. Why? Because what Jonathan Paul Manziel did should absolutely be legal under NCAA by laws. The demand for collegiate athletes' autographs on a mass scale is so scarce, that the few that can profit should have the ability to sell their signature. You're talking about a handful of college baseball, basketball and football players that could be impact players on the market. These are the guys that would be bombarded if they worked at the local Pizza Hut to make $7,500, like one of Johnny's lower caliber teammates may, to pay for the trips to Mexico like Manziel and his assistant Nate Finch went on for Mardi Gras.
At the Walter Camp, Manziel arrived fashionably late to the annual fanfest, was bombarded by autograph hounds for about 15 minutes, and then was moved into a private area for players and Camp personnel for New Haven pizza (far better than any college kid's autograph). This is likely where Manziel was put in contact with the unnamed broker, which had me almost certain a board member was involved. From my interaction with a source that weekend, Manziel and a friend had private signings prior to one of the dates in question, January 11th and 12th. My involvement in the story took form from there as I began keeping tabs on Manziel, mainly on eBay. On March 2nd, I reached out to a dealer, who posted COA authenticated items of Manziel with a picture of Manziel signing on a hotel room desk (found picture in my computer after 3 hours of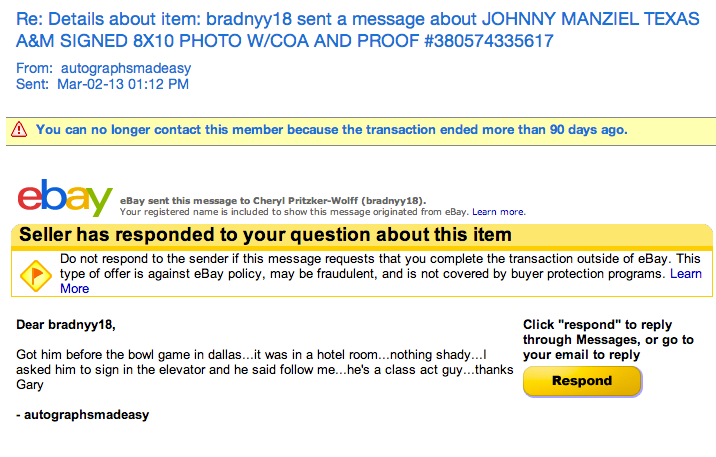 searching). The dealer "autographsmadeeasy", who I contacted via eBay private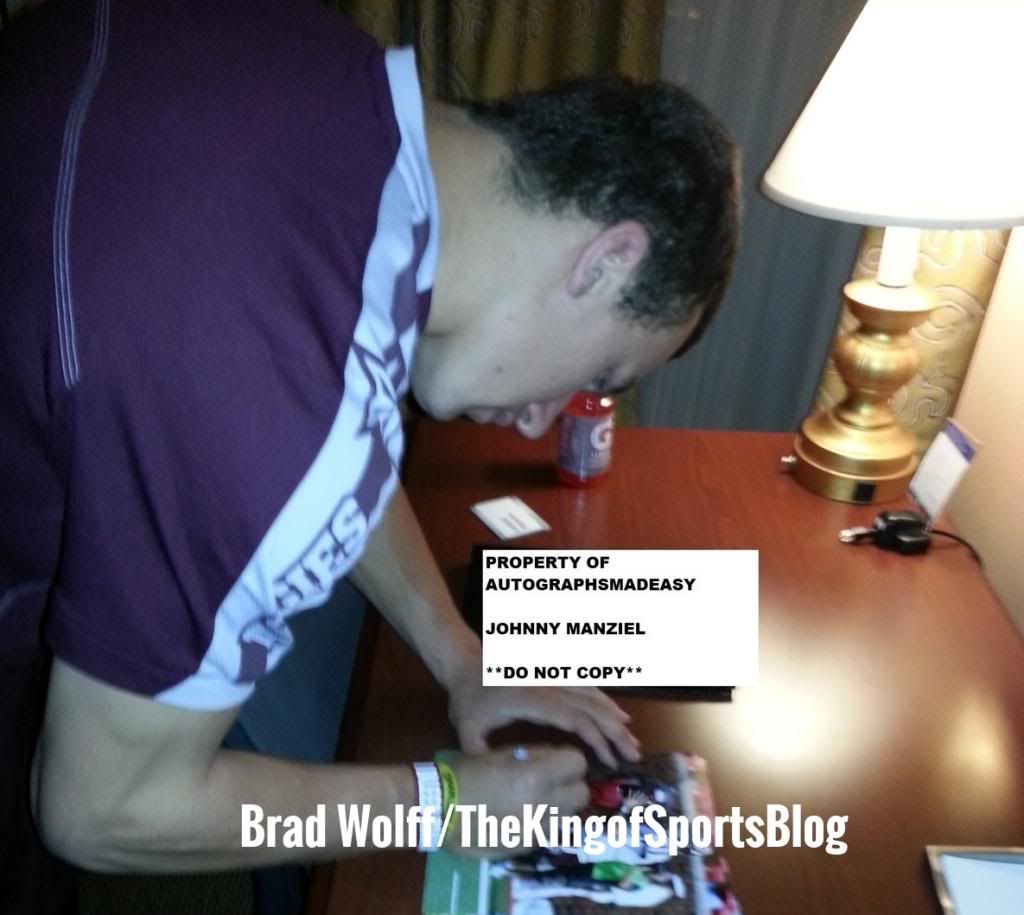 message, told me with regards to where the autograph was signed, "Got him before the bowl game in Dallas. It was in a hotel room. Nothing shady. I asked him to sign in the elevator and he said follow me." ESPN posted the picture 6 days ago without the watermark from the user. Therefore, it appears we have the same source. Now, I have no explanation to why the top college football player in the country lured an autograph hound into his room to sign, based on listings, approximately 20 pieces, if money was not involved. Weeks later, I caught onto a man I figured to Manziel's best friend, Nate Finch, after searching through Manziel's social media interactions. I followed Finch's Instagram account and found pictures of Manziel and Finch partying in Mexico and spending time in the company of numerous high-profile athletes. The duo were having too much fun to quash their public relationship on Twitter, where Manziel was notably very public about his lifestyle. It was too simple: What college kid needs a personal assistant unless there's a side business?
Let me change tones. This piece is being done in light of the new waves of journalism and the morality that goes with it. My minor evidence was discovered using a few of the Internet's most popular and public websites. E-investigative journalism (simpler term needed), brought into the light by Deadspin's Timothy Burke's spectacular job on the Manti Te'o story, is a tidal wave of information, that deserves attention, but also requires more integrity. Most bloggers aren't Northwestern grads, taught the morals of the field. And that's why I asked for the help of Rovell (Northwestern ironically) and Co. It's just sad that overcrowding of people trying to improve as journalists has led to lack of respect and therefore, writers brought up the wrong way. I have such respect for the "older" generation of journalist, who paid $40,000-$50,000 for expertise that a 21 year old thinks he has from blogging, and keeping in touch and learning from many of them (including the New York Post's Mike Vaccaro who was of assistance for this piece), but not many bloggers do. Sadly, we're getting towards the last few decade of real sportswriters. Too many are about the "Source: Insert Bogus Headline Here" lifestyle of page views and stupid Twitter fame that there is no longer a vision of a good and proper thing to do. When the Posnanski's, Simmons's, and Klosterman's fade out, we will be left with a ton of sports gossip writers, plagiarists of those gossip articles, and idiots. That's why, since I entered the game at 10 year oldt, as a hobby, be tried to work as hard as I could to do something special. My supporters have latched onto the uniqueness of what was once a braceface, 90-pounder interviewing monstrous looking athletes and telling their story, bringing out the human side out of them that proves how human they are doesn't necessarily correlate to how many millions they've made. I also sat this story on the sidelines (Manziel 2013-2014 style?) for morality's sake, and I couldn't thank my amazing father for being more than I could ever ask for. See you soon, dad. Never has one of my little nicknames felt more right: "Morals".
I hope the future is bright. Not just for journalism, but for a young guy being ripped off by an unjust system as well.
Thank you to the writers who have molded me into the blogger I am and to my current co-counselors who dealt with a crazed Brad throughout the process of writing this article on 12 pages of my camper's stationary. I would like to not thank Adirondack Wi-Fi for putting this story on delay.